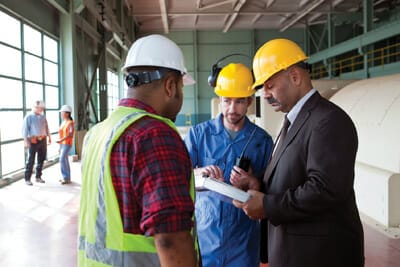 August 18, 2016 — Safety standards are designed to ensure the safety of products, activities or processes. When it comes to lightning protection, the difference between "safe and effective" lightning protection and "unsafe and ineffective" lightning protection is ultimately related to which guidelines are implemented.
Over the years, LPI has shared a lot of information about the NFPA and UL safety standards for lightning protection. Despite the wealth of information shared, we continue to field questions from the public and the media asking for more information and clarification.  Sometimes the fundamentals are helpful, so here are the 5 W's to better acquaint you with NFPA 780, the safety Standard that sets the quality standard for lightning protection design and installation.
Who?
The National Fire Protection Association (NFPA) describes itself as, "a global nonprofit organization, established in 1896, devoted to eliminating death, injury, property and economic loss due to fire, electrical and related hazards."
As a codes and standards organization, NFPA provides technical information (code and standard documents) designed to minimize the risk and effects of fire. These codes, standards, recommended practices and guides are developed and reviewed through a consensus standards development process, represented by diverse viewpoints and interests. The NFPA's committee process is accredited the American National Standards Institute.
What? 
Often considered the grandfather of lightning protection, NFPA 780 provides valuable resource information for AHJs, project designers, engineers, insurance professionals and anyone responsible for the protection of lives and property from dangers associated with lightning. NFPA also serves as the basis for the LPI-175 Standard of Practice for the Design-Installation-Inspection of Lightning Protection Systems reference document, which is commonly used by LPI-certified designers and installers and LPI-IP inspectors. NFPA 780 covers lightning protection system installation requirements for structures, watercraft, wind turbines, industrial stacks and other special occupancies. Lightning protection guidance for new construction and building trends (including solar systems, arrays, catenary systems, airfield lighting, rooftop equipment) are also addressed, with new information and sections added to the Standard in conjunction with the three-year review process.  Information added to the 2017 edition of NFPA 780 to address new safety challenges includes:
Occupancy-specific safety, design and protection protocol
Updated information for hazardous, combustible and explosive conditions
Revisions to address protection for structures containing flammable vapors, gases or liquids.
Revisions to assist facility managers, installers, inspectors and AHJ's with on-site inspections and periodic maintenance.
New definitions for commonly misunderstood and miscommunicated lightning protection terms.
Updated illustrations for the placement of lightning protection components.
New bonding requirements for metal bodies.
New Annex sections (there are now 15 in total in the 2017 edition) added to address additional new building technologies (protection of smart structures and SPD guidance for the selection of SPD's for photovoltaic installations.)
 When?
The NFPA first adopted "Specifications for Protection of Buildings Against Lightning" in 1905. Revised editions of the early code (and subsequent standard) continued to be adopted by NFPA throughout the century. In 1992 the numerical designation of the document was changed from "78 "to "780" and the name "Lightning Protection Code" was revised to "Standard for the Installation of Lightning Protection Systems" to conform with the NFPA's routine method of naming documents. Since NFPA 780 contains installation requirements, it is more appropriately termed an installation "standard" rather than a "code."
Why?  
NFPA 780 is the principle lightning protection Standard in the U.S. and a primary implementing document for the IEC 62305 (International Electrotechnical Commission) series of documents. NFPA 780 also provides the foundation for numerous specialized lightning protection documents for organizations such as the DOD, DOE, NASA and the FAA. Prior to the development of the IEC series, NFPA 780 was routinely referenced and used worldwide.
Where?  
The 2017 Edition of NFPA 780, prepared by Technical Committee on Lightning Protection was issued by the Standards Council and approved as an American National Standard on June 2, 2016. The new document can be viewed free online at: http://www.nfpa.org/codes-and-standards/all-codes-and-standards/list-of-codes-and-standards?mode=code&code=780
NFPA 780 is also available for purchase at: https://lightning.org/downloads/nfpa-780-standard-2017-edition/
Curious about the How?  Contact a LPI-certified specialist: https://lightning.org/membership/membership-directory/ to learn how a NFPA 780-compliant lightning protection system can help protect your home or business.
Note: As part of its mission to promote fire safety, the NFPA also develops a variety of educational programs, tools, and resources for all ages and audiences. Visit the NFPA website at http://www.nfpa.org/ for more information.